Meet Our Doctor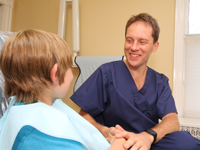 Growing up in New Haven and Branford, Dr. Anthony D. Bellucci attended Notre Dame High School in West Haven, Connecticut and graduated in 1981. Since childhood he had been studying the guitar and after high school, he was accepted to The Berklee College of Music in Boston, Massachusetts.
Following his time at Berklee, Dr. Bellucci completed a course in mountaineering and rock climbing at the Colorado Outward Bound School in Denver, Colorado and started working at the Automotive Controls Corp. in Branford. He also attended evening classes at Southern Conn. State University in New Haven and graduated in 1989 with a B.S. degree in Biochemistry.
That same year he began attending dental school at Tufts University School of Dental Medicine in Boston. He earned a Merit Scholarship Award from Tufts and in 1990 he received a Summer Research Award and the Conn. State Dental Association/Dr. Charles A. Vernale Scholarship Award.
Dr. Bellucci has presented research papers at International Association of Dental Research meetings in Acapulco, Mexico and Chicago, Illinois while at Tufts. He was also a member of the Robert R. Andrews Research Honor Society and graduated from Tufts in 1993 with an Award for Excellence in Operative Dentistry.
In 1994, he completed a one year General Practice Residency in advanced dentistry and surgery at The Albert Einstein Medical Center in Philadelphia, Pennsylvania and started working in a group private practice in West Haven. He was briefly a partner in another group practice in Branford before moving back to the New Haven/West Haven area in 2000.
West Haven Dental Care was founded in 2003 by Dr. Bellucci in a historic Victorian Era Estate on the West Haven Green that he has renovated and restored over the last ten years. Utilizing modern materials and techniques while maintaining traditional doctor-patient values of care and respect are foundations of the practice. He has dedicated West Haven Dental Care to be a patient-centered and comfortable private dental office for the whole family