Our Services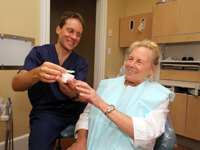 At West Haven Dental Care, we offer a range of comprehensive dental services to patients of all ages. Dr. Anthony D. Bellucci has the skills and knowledge necessary to provide every patient with the care they need and deserve. With a warm and welcoming environment, our patients feel comfortable and can ask any questions they may have about their dental procedures.
Services we offer include, but are not limited to:
Routine Dental Cleaning
We suggest that every patient should come in for a dental cleaning and routine exam every six months or as recommended by Dr. Bellucci. During the cleaning, we will remove plaque and calculus from your teeth leaving behind a bright and polished smile. Occasionally, diagnostic radiographs (x-rays) need to be taken to help detect possible cavities in between teeth that cannot be seen by the naked eye. In addition, we will educate you on how to maintain your smile and therefore your oral health, in between visits.
Endodontic Therapy (Root Canals)
Root canal therapy is done when a cavity has reached the pulp of a tooth causing an infection of the nerve, or when severe trauma has affected the tooth. Regular checkups with Dr. Bellucci help to avoid and prevent the need for endodontic therapy. But once the pulp has become infected, it must be treated to avoid further issues since it cannot heal by itself. Signs that a pulp has become infected include sensitivity to hot or cold foods or liquids, pain, swelling, or even a bad taste in the mouth. In some cases, no symptoms are obvious and the patient is unaware of the problem until they are seen by their dentist for a proper exam and radiographs are taken.
When endodontic therapy is performed, Dr. Bellucci will clean out the infected pulp, and disinfect the canals of the tooth. Once the area is disinfected, the canals of the tooth will be filled with a special material to prevent from further infections, and help the tooth to heal. Sometimes a core build-up, bonded post, and crown are necessary for restoring a tooth to function. Dr. Bellucci will discuss your restorative options with you before beginning endodontic therapy.
Cosmetic Restorations (White Bonded Fillings)
Old silver restorations are replaced with tooth colored fillings, resulting in a smile you can be proud of and which looks natural. White fillings are also bonded to the natural tooth structure increasing the overall strength of the tooth unlike silver (amalgam) fillings that have no bonding properties. This is the most common restorative procedure preformed at our office and Dr. Bellucci has years of experience, and even an academic award from Tufts, in placing them. If you're unhappy with the unsightliness of silver fillings that were used to fill your teeth years ago, come see Dr. Bellucci and have your fillings replaced with tooth-colored fillings!
Crowns (Caps) and Bridges
Crowns are required when a tooth is severely damaged or has advanced decay and cannot be fixed with bonded filling material. Crowns cover the whole remaining tooth and restore its function, strength and esthetics. Several crown material options are available and Dr. Bellucci will discuss these on an individual basis depending on the area of the mouth that needs to be restored.
Bridges can be utilized when tooth loss occurs due to gum disease, decay or injury. The loss of the tooth can create greater problems for your dental health if it is not corrected. The teeth next to the missing tooth (or teeth) can begin to move and result in pain, discomfort, and can look unsightly. With bridges, Dr. Bellucci can close any gaps in your mouth. The bridge will look and act just like natural teeth, is permanently cemented, and helps to maintain the position of the rest of your teeth.
Dental Implants
If you're missing one or more teeth, dental implants may be the perfect solution for you. Dental implants are natural-looking and are permanently anchored into the patient's jawbone and, unlike traditional bridges, no preparation of adjacent teeth is required. It is important to replace missing teeth, because if left with spaces, your teeth can shift and cause a variety of dental problems. Dr. Bellucci has extensive experience in treatment planning and designing implant solutions that are custom tailored for each individual patient. When your dental implants are placed, your jaw will bond and attach to the implant making them very strong and functional. Implants can also be used to help secure and stabilize full dentures with special attachments. To see if you're a candidate for dental implants, call us today and make an appointment!
Dentures and Partial Dentures
Complete and partial dentures are removable appliances that replace missing teeth. Through the years, new advancements have allowed dentures to be more comfortable than ever. Partial dentures are used when a patient still has some natural teeth, while complete dentures are used when all natural teeth are missing. By filling in any missing gaps with partial dentures, it ensures that your remaining teeth do not shift. Regular visits to the dentist are still necessary, so that Dr. Bellucci can ensure your dentures and remaining natural teeth are in good shape.
Minor Surgery
There are times when a tooth is beyond repair and needs to be extracted. Dr. Bellucci was trained in surgical techniques during his post-graduate residency at the Albert Einstein Hospital in Philadelphia and regularly performs routine and surgical extractions. Referral to trusted oral surgeon specialists is also considered for advanced surgical cases.
Tooth Whitening (Take-home)
Soon after starting treatment with a take-home tooth whitening system, you will start seeing a whiter and brighter smile! With our whitening services the effects of coffee, smoking, tea, and other causes for tooth discoloration, will slowly disappear leaving a beautiful white smile. Our process is fast, immediate and will help make your teeth look their best. Schedule an appointment for a consultation with Dr. Bellucci to see if you're a candidate for tooth whitening.
Dental Emergencies
Dental emergencies can be very frightening and often painful. Prompt treatment is generally always required to alleviate pain and to ensure the patient's oral and overall health. If you're dealing with a dental emergency, call us immediately and we will schedule you in as soon as possible. Dr. Bellucci is also generally on-call after hours for dental emergencies. Please call our office for details anytime an emergency arises.
For more information about any of our services, feel free to contact us today. We look forward to the opportunity to help you with all of your dental needs.